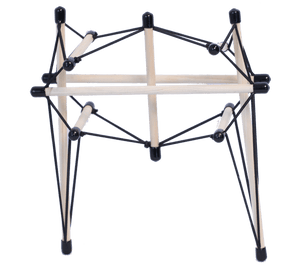 TensegriTeach PELVIS
€6000

€60,00
Tax included.
---
---
TensegriTeach PELVIS/Tensegrity Cymbal - 12 chopsticks – exclusively available here! 
This new model illustrates in a vivid and haptic way the tense-ridge connections between pelvic blades, sacrum, spine and legs. Beautifully built model made of black rubber bands, wooden rods and plastic caps. An ideal eye-catcher and demonstration model for your practice and teaching. In addition, it is also suitable for displaying the three-dimensional movements in the pelvis and hip joints during human gait.
Height approx. 30 cm. Delivery is disassembled and packed in a cardboard tube. Can be folded and rebuilt for transport purposes. Tensegrity basin model with 12 chopsticks is easy to assemble and lasts for years in handling and demonstration.
Assembly instructions: here
Aufbauvideo:  here