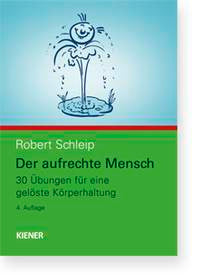 The upright man, incl. 30 exercise cards and download file for smartphones
€3495

€34,95
Tax included.
---
---
128 pages, 40 illustrations (softcover)
+ 30 cards for desk or wallet 
+ file with all exercises for download for smartphones
ISBN 978-3-943324-31-0

Robert Schleip
The upright person
30 exercises for a relaxed posture
What kind of life would that be - free of back pain, cramped muscles and tension headaches? 
If you've long forgotten how good that feels, this book will help you get started. Here, the well-known Munich body therapist, Robert Schleip, has compiled the best of the body therapy methods Rolfing, Alexander Technique, Hakomi and Feldenkrais for you. The humorously illustrated instructions help troubled desk jockeys to lightness and uprightness. 
With minimal effort, you will learn effortlessly and effortlessly to break your bad posture habits. Well-being guaranteed!
"Impressively describes how we can improve our posture, behavior and awareness. Easy to apply, straightforward and easy to follow." Vital " A fantastic book in which the essentials of an upright posture are finally explained and realized with unique exercises! Read the book! It is truly unique."  From an Amazon customer review